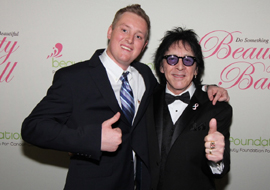 Connor Phelps grew up in Orange County, California and moved to Scottsdale, Arizona with his parents and younger sister, Kendall. He entered the University of Arizona in 2013 and pledged the Phi Gamma Delta Fraternity (FIJI) as a freshman. Unfortunately, circumstance didn't allow him to join.
The year prior, FIJI launched The Diamond Cup – a charitable fundraiser to raise money for The Beauty Foundation. Connor had hoped to be part of their second annual event after being accepted by the fraternity. However, during his pledge, he was diagnosed with ALL Leukemia. The fraternity that had dedicated itself to raising money for families with cancer now had one of their own stricken with the disease.
The Beauty Foundation provided Connor and his family with a financial grant to help pay for their expenses. The Foundation also bought him an iPad so he could stay connected to friends and family during his hospital stays which lasted for several weeks at a time. After receiving the grant and the iPad, his mother, Christy, said "as we began the long journal of battling cancer, I found myself wanting to do more, wanting to help others, wanting to already give back or pay it forward in some way. I'm not sure why this is happening to our son and our family, but I do know God has a plan and the end result will be one of total good health and remission from the "C" word. The gratitude that we feel in our hearts today is overwhelming."
Connor, too, is driven to help as many people diagnosed with cancer as he can. He currently volunteers for The Leukemia & Lymphoma Society, The Jessie Rees Foundation, The Gold Rush Cure Foundation and Ronald McDonald House.
With the support of his friends and family, Connor has been bravely fighting cancer since his diagnosis. Unable to attend school during the toughest time of his treatment, Connor was very excited to be able to return to the university in the fall of 2014 to continue his studies. He's already made up all of his classes from his second semester of 2013 while at the same time taking a full schedule of courses and earning straight A's. Quite an accomplishment!
Connor plans to apply to the Eller Business Management School in the fall and is also considering a career in Pediatric Nursing as he is drawn to help children. He received excellent care and believes there is a shortage of male nurses.
Connor is now in remission. He, his family and his friends are now praying to hear those wonderful words "cancer-free" in March of 2017.
"Cancer has taught me many things, but the most prominent lesson was how to be humble - and that reflected how I wanted to proceed after graduation. I hope to eventually graduate the University of Arizona with a bachelor's in Management with a minor in Pre-Health, which gives me the opportunity into business as well as participating in the medical field". – Conner Phelps