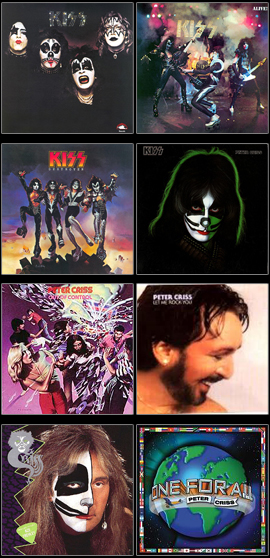 Peter Criss Mini-Biography
Peter Criss is a founding member and original drummer for the rock n' roll supergroup, KISS. In addition to playing drums in the band, Peter also provided lead vocals for a number KISS' most popular and memorable songs including Beth, Black Diamond, and Hard Luck Woman. Peter's Catman persona is an instantly recognizable icon in pop culture.
Peter was born Peter George John Criscuola on December 20th, 1945 in Brooklyn, NY. Influenced by the big band sound of the 1940s, Peter idolized the playing style of legendary drummer Gene Krupa, who eventually became instrumental in Peter's musical career. By the early 1970's Peter had established an active and successful career as a musician.
In 1973 Peter Criss formed a trio with fellow New York City musicians Gene Simmons and Paul Stanley who, with the later addition of Ace Frehley, would become KISS. When the bands fourth album, KISS Alive!, hit the scene, KISS began it's ascent to rock n' roll domination. Followed up by the mega-smash album, Destroyer, KISS fans were treated to an unlikely hit in the form of Beth. This song, written and performed by Peter Criss, set aside the drums and guitars of the bands typical sound for piano and a string section. Remaining one of the bands most popular songs, Beth went on to become KISS' highest charting single and a staple of the bands concerts.
After numerous world tours, platinum albums, and KISS merchandise, Peter Criss left the band in 1980. He later embarked on a solo career that led to the release of Out of Control, Let Me Rock You, and most recently One for All.
By popular demand, the original lineup of KISS reunited in 1995 for the years most successful tour. The Reunion Tour was followed up with the Psycho Circus album and tour, and finally the Farewell Tour. After the Farewell Tour, Peter briefly re-joined the band and appeared on the KISS Symphony: Alive VI album and DVD.
In October 2012, Peter Criss will release his autobiography, Makeup to Breakup, giving an up close and personal view of everything from his NYC upbringing, his bout with cancer, music, life, love, and all things Catman!