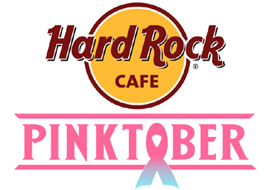 Orlando, Fl., September 16, 2014 - Hard Rock International is kissing breast cancer goodbye with a group of music superstars who will serve as Artist Ambassadors for the brand's 2014 PINKTOBER® campaign. As part of National Breast Cancer Awareness Month, Hard Rock is honored to partner with both up-and-coming talent and music legends, including acclaimed Canadian pop multi-instrumentalist, Lights; founding member of KISS and Rock and Roll Hall of Famer, Peter Criss; renowned rock star, philanthropist and Poison frontman, Bret Michaels and international female pop-duo, Bananarama. As PINKTOBER Ambassadors, the artists will entertain fans and survivors at various Hard Rock locations to raise awareness and funds for a cause that affects millions of people around the world.
Lights, electro-pop singer, multi-instrumentalist and Juno Award winner, is this year's PINKTOBER Artist Ambassador and featured face of the campaign. To celebrate her exciting partnership with Hard Rock and show her support for the cause, the Canadian singer is holding a free concert at Hard Rock Cafe New York on Tuesday, September 30, at 7 p.m. At the event, Lights is also slated to celebrate the release of her third studio album Little Machines, featuring Lights' first single, "Up We Go."
Hard Rock has also joined forces with Peter Criss, breast cancer survivor and iconic founding member of the rock n' roll supergroup, KISS, as one of its PINKTOBER Artist Ambassadors. Criss partners with Hard Rock to raise awareness of male breast cancer, educate men about the importance of early detection and combat the notion that only women are affected by breast cancer.
"Hard Rock's annual PINKTOBER program is an incredible example of the unique way that Hard Rock Cafes, Hotels and Casinos are able to unite under the same cause to spread the message of strength, hope, awareness and support to fans around the world," said Keely Wade, Philanthropy & Marketing Manager Hard Rock International. "Together, with our leading philanthropic partners who focus on global breast cancer research and awareness, we will have a tremendous impact on the lives of millions of men and women worldwide."
As a long-time supporter of the brand and Artist Ambassador since 2012, Bret Michaels celebrates PINKTOBER at Hard Rock Hotel Orlando on Thursday, September 25. The legendary rocker and global philanthropist will perform at Velvet Sessions, Orlando's only rock n' roll cocktail party, and kick off the 15th Annual PINKTOBER campaign for all Hard Rock Hotel and Casino locations. At the event, Michaels will also "get into bed for the cause" and meet with survivors and women currently battling breast cancer.
Hard Rock's commitment to breast cancer awareness and research continues throughout September and October with 15 percent of retail price from the campaign supporting The Breast Cancer Research Foundation (U.S.), The Caron Keating Foundation (UK only) and various breast cancer charities worldwide. Fans and survivors can visit their local Hard Rock and join the fight by participating in pink-themed events or enjoying PINK menu offerings, "PINK Sheets Rooms," and limited-edition PINKTOBER merchandise - all for the cause!